(Rivista Internazionale - December 1995: Aims and developments of the Order - 2/2)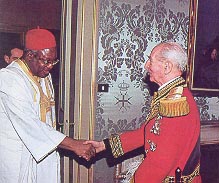 Rome. Magistral Palace. The Grand Chancellor, Amb. Felice Catalano di Melilli, with the Ambassador of Benin, Richard Adjaho, on the occasion of presenting his Credentials to H.M.E.H. the Prince and Grand Master.
Thanks to modern technology the Order's first aid emergency corps can act promptly in response to natural calamities, as was the case in the Philippines, in Italy and in activities, involving reconstruction and socio-medical programmes, as in Vietnam, Kampuchea, Myanmar and the Dominican Republic. The number of hospital facilities run by the Order has increased particularly in Germany, and others are being either built or extended in France, Italy and Spain. New social-medical centres have been established in Latin America (Brazil) and the Middle East (Lebanon).
Significant impulse for what concerns the Order's spiritual activity, not disjointed from its humanitarian activities, was given this year to the many Pilgrimages with 'Our Lords the Sick'. I am referring to the International Pilgrimage to Lourdes but also to those organised by the individual Grand Priories and national Associations within their own territory and abroad. For example the pilgrimage in autumn to Rome by the confreres and volunteers of the Grand Priory of Austria and the German Association, who were received in private audience by the Holy Father.
There has been an increase in the number and attendance of the meetings and retreats of the Dames and Knights and youth groups.
Particular interest is evident in cultural meetings, in some cases organised in conjunction with Universities and Academies.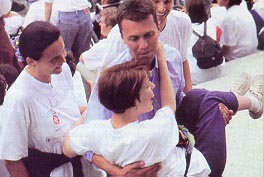 Volunteers from the Ambulance Corps of the Grand Priory of Austria (MHDA) and the Italian Ambulance Corps (CISOM) helping the disabled and during a civil defence drill.
The Commission has been continuing its work for the reform of the Constitutional Charter and Code, the conclusion of which will be presented to the Sovereign Council with a view to its convening, after appropriate instruction, the proposed Extraordinary Chapter General.
Because of temporary health problems I have, as you know, requested a period of sick leave from H.M.E.H. The Prince and Grand Master Fra' Andrew Bertie, and the Sovereign Council have temporarily entrusted my functions to the Receiver of the Common Treasure, Count Don Carlo Marullo di Condojanni. I wish to convey a special greeting to Carlo Marullo and express my gratitude and sincere appreciation for the manner in which he has performed this function.
Once again, my warmest greetings to you all, and most especially to those involved in the exacting and often dangerous task of bringing relief to the many victims of wars and conflicts.

Felice Catalano di Melilli

back to previous page
back to summary
next article