(Rivista Internazionale - December 1995: Aims and developments of the Order - 1/2)

Aims and developments of the Order

Felice Catalano di Melilli
Grand Chancellor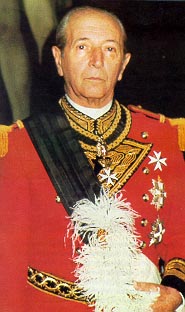 Rome. The Grand Chancellor of the Order Amb. Barone Felice Catalano di Melilli.
The new year offers me the opportuniry to express my sincerest greetings to each member of the Order and their families. Greetings of peace and serenity, in a world of turbulence, and of continuous commitment to the ideals of the Order.
The year that has come to an end has allowed the Order to achieve especially satisfactory results on a spiritual, political and humanitarian level. Among the political events of particular significance the presence of the Sovereign Order at the General Assembly of the United Nations in New York, on the occasion of the 50th anniversary of its foundation.
In the framework of diplomatic activities, I wish to underline the diplomatic relations established or perfected with Albania, Liechtenstein, Bulgaria and Latvia and the particularly interesting meeting at the end of 1995 between His Most Eminent Highness the Prince and Grand Master, and the President of the Republic of Austria.
In February, H.M.E.H. chaired the Third Meeting of the National Associations and Embassies of the Order in Latin America, confirming the activity of the Centre of Co-ordination and Permanent Committee. On that occasion H.M.E.H. made a State Visit to the Dominican Republic and Venezuela.
The Prince and Grand Master made three successive visits to Spain (a private visit to Santiago de Compostella and two official visits, one for the solemn funeral of H.R.H. the Count of Barcelona and the other for the marriage of H.R.H. Infanta Donna Elena) thus renewing and strengthening the ties with the Sovereigns, the members of Government and the Spanish Subpriory and Assembly.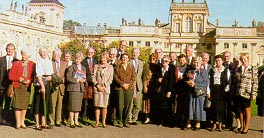 Warsaw. The Grand Priors and Presidents of the Order's National Associations and their wives in front of the Royal Palace of Wilanow during the Meeting organised on October 4 and 5 by the Polish Association for those responsible for National Bodies. During the Meeting, chaired by the President of the German Association, Prince Lowenstein, participants addressed issues relates to the reform of the Constitutional Charter and Code, the reorganisation of the Grand Magistry, the co-ordination of hospital activities via the constitution of a consultative Commission, the tasks of the Order's diplomatic services.
Among the visits made by H.M.E.H. to Malta, special mention should be made of the one made last March to participate in the celebrations in honour of Grand Master Fra' Jean de la Vallette-Parisot.
The Prince and Grand Master also made an official visit to Slovenia and Morocco in May.
The aim of all such visits, in addition to that of fostering the further development of relations and assistance on the part of the Order, is on every occasion to highlight the rank of Head of State of His Highness and the sovereignty of the Order.
The visits received by His Most Eminent Highness at the Magistral Palace were not less numerous: that of the Italian Foreign Minister, the President of Paraguay, the President of Guatemala, the President of Ecuador, the Prime Minister of Slovakia, the President of Venezuela, and the President of the Republic of Malta.
Various co-operation agreements were also signed in the course of the year, including the agreements with Morocco and the Seychelles.
Concerning the social and hospitaller activity, the Order continues to be very much involved, frequently in the front line, in the most devastated regions of ex- Yugoslavia, in the ravaged land of Rwanda, along the border of Kuwait and Iraq.

next page
back to summary