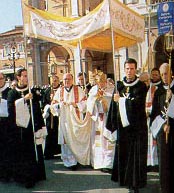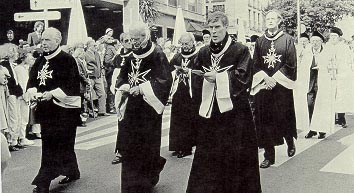 COLOGNE. The members of the German Association in the Corpus Domini procession in front of the Cathedral of Cologne.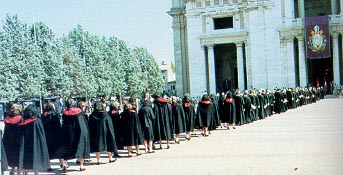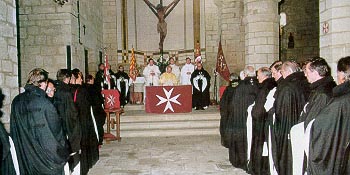 ASSISI. (First picture) The pilgrimage of the Veneranda Lingua d'ltalia on 8 December, a feast-day of the Order dedicated to the Blessed Virgin Mary of Monte Filermo, to the Basilica of Santa Maria degli Angeli, led by H.M.E.H. the Prince and Grand Master. Also present were the High Officers of the Order, the Sovereign Council, the Prelate and numerous Dames and Knights of the three Italian Grand Priories, with volunteers and members of the Order from various regions of the peninsula, praying before the icon kept in the Basilica.
PUENTE LA REINA (Second picture) View of the Romanesque nave of the Church of the Crucifix, formerly property of the Order, and of the first Chapter held in this region following the establishment of the Delegation of Navarra.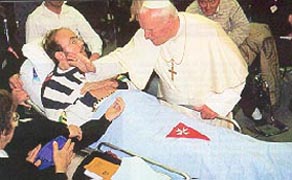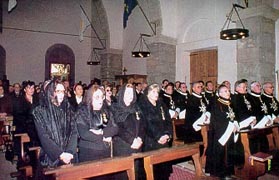 ROME. (First picture) In November 1995, the German Malteser-Hilfsdienst organised the Order's sixth pilgrimage to Rome for the disabled. Over a thousand participants from all the dioceses of Germany and Romania, including 282 in wheelchairs, spent a week in the Eternal City. The most significant moments of this pilgrimage, organised by the German Maltesers every three years, was the private audience granted by Pope John Paul II and the visits to the numerous monuments of Rome. During his audience to the pilgrims, the Pope thanked the health workers, doctors and voluntary nurses because, as Good Samaritans, they had given up their holidays and free time to assist the sick.
SIETE FUENTES (Second picture) Dames and Knights of the Delegation of Sardinia during the religious ceremony held in the Order's Church of St. Leonard, in the presence of H.M.E.H. the Prince and Grand Master, during his visit to the Order's structures in Sardinia from 5 to 8 November.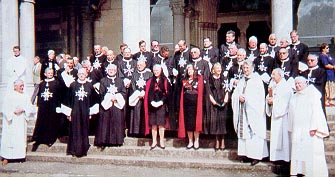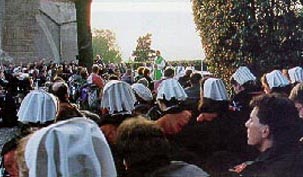 PONTMAIN. France. (First picture) Over 50 members, volunteers and supporters of the Order's French Association and Hospitaller Works went on a pilgrimage on 9Th September to the Basilica of Pontmain in western France, dedicated to the Virgin.
ROME. (Second picture) The Malteser Hospitaldienst of the Grand Priory of Austria organised a pilgrimage to Rome from 23rd to 29th October for "Our Lords the Sick" accompanied by volunteers, sisters and stretcher-bearers, Dames and Knights. The pilgrims were received in private audience by the Holy Father, who addressed words of comfort and encouragement to them. The pilgrimage, led by the Grand Prior, H.E. Fra' Wilhelm Liechtenstein, ended with a meeting with H.M.E.H. the Prince and Grand Master, Fra' Andrew Bertie, and the Order's Sovereign Council in the Magistral Palace on the Aventine Hill.
back to previous page
back to summary
next article