(Rivista Internazionale - December 1995: The painter knights - 1/3)

History

The painter knights

by Giovanni Morello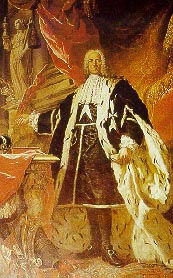 Antonie De Favary Portrait of Gran Master Manuel Pinto de Fonseca.
In the second half of the 16th century the Supreme Pontiffs, and in imitation also other sovereigns, started to confer knightly titles - normally that of the Knight of the Order of Christ - to the most important painters or to those who had distinguished themselves in particular and exacting commissions. This custom, which became increasingly popular in the 17th century, also continued in the next one and only stopped being common practice in the early 19th century.
Besides a gesture of respect and recognition from the sovereign for the artist's services, it was also a tangible way of introducing him into the noble elite of society. The artist, mostly a painter but sometimes also a sculptor or architect and often of humble origin, was ennobled for the merits of his art and admitted as a bona fide member of the upper class. There were many important painters who worked in Rome.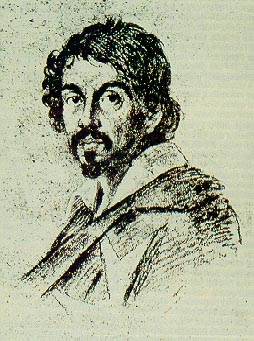 Ottavio Leoni Portrait of Caravaggio with the Maltese Cross (Avignon, private collection).
A really famous one was Giuseppe Cesari, called Cavalier d'Arpino (Knight of Arpino) from his native town, responsible for many famous decorative feats (Palazzo dei Conservatori on the Capitol, transept of St. John's Basilica, and designs for the mosaics of the cupola of St. Peter's. Cavalier d'Arpino also had relations with the Order of Malta, since he designed the illustrations for the famous 1588 edition of the Order's Statutes published in Rome.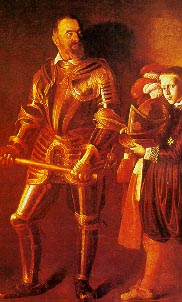 Caravaggio. Portrait of Grand Master Alof de Wignacourt in armour accompanied by his page (Paris, Louvre Museum).
The Order of St. John of Jerusalem, of Rhodes and of Malta had various painters among its members.
The most famous was undoubtedly Caravaggio. His time with the Order was very brief, but produced masterpieces, certainly some of the most valuable art treasures to be found on Malta.
Much has been written about the character of Michelangelo Merisi, better known by the name of his native town, and not always clearly.
Many points remain obscure, including his admission to the Knights of St. John and his subsequent sudden expulsion from the Order.
Caravaggio travelled to Malta from Naples in the summer of 1607, probably with the Order's galley squadron commanded by Fabrizio Sforza Colonna, son of the Marquis of Caravaggio, arriving in the port of Valletta on 12 July of that year. The artist immediately started work on the island of the knights. His first Maltese paintings were two portraits of Grand Master Alof de Wignacourt. One is lost, although some copies still remain, whereas the other depicting the Grand Master in armour accompanied by a page holding his helmet, is in the Louvre in Paris.

next page
back to summary