(Rivista Internazionale - December 1995: The painter knights - 2/3)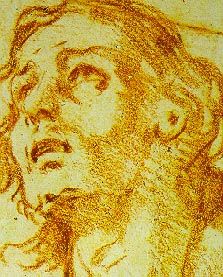 Mattia Preti. Study for the head of Christ in the Baptism scene painted in St. Johns Co-Cathedral (National Museum of Fine Arts, Valletta).
This painting has aroused much discussion because of the armour the Grand Master is wearing, mainly because there is another portrait of de Wignacourt in the National Museum in Malta, variously attributed to Cassarino, Lionello Spada and even the same Caravaggio. In this second portrait the Grand Master is also wearing his armour, recognisable by the fleur-de-lis of his coat-of-arms, duplicated on the centre of the shield leaning beside him. This 16th-century armour considered the work of the armourer Gerolamo Spacini, is still conserved in the Malta Armoury, as is the cuirass - said to be of the «Pisan style», perhaps in reference to the Milanese workshop of Pompeo della Chiesa (circa 1570-1575) - in the Louvre picture, which does not however bear any heraldic element referable to the Grand Master. Maurizio Calvese has seen a symbolic significance in this armour painted by Caravaggio, speculating that it could have been worn by the Grand Master in the battle of Lepanto, in which de Wignacourt participated with honour.
Another very expressive portrait of the Grand Master in religious habit, is in the Pitti Palace collection in Florence.
The great white cross of profession painted on his chest symbolises, with the sword and rosary, the constituent elements and the history itself of the Order, revealing at the same time an unusual expressive power.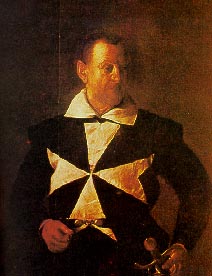 Caravaggio. Portrait of Gran Master Alof de Wignacourt (Florence, Palatina Gallery).
It almost seems that Caravaggio's main artistic work in Malta was to portray de Wignacourt.
His features have also been recognized in the face of St. Jerome writing, the fine oil painting commissioned by Fra' Ippolito Malaspina for the Chapel of the Langue of Italy in Malta, unfortunately stolen in 1984 from the St. John Museum of Valletta and still not found.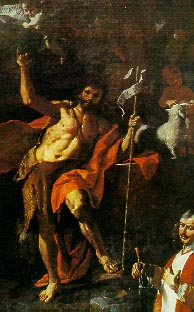 Mattia Preti. St. John the Baptist with the self-portrait of the painter in the habit of the Knight of Malta (Curch of San Domenico, Taverna).
A year later on 14 July 1608, Caravaggio was received into the Order probably on the initiative of the Grand Master not as Knight of Grace, as commonly believed, but as Knight of Obedience.The document, preserved in the Order's archive in Malta, attests that «Michaeli Angelo de Caravaggio» was received «in gradum fratrum militum obedientiae».
Caravaggio's militancy in the Order was very brief. On 6 October the Grand Master ordered his capture after he had fled from the Sant'Angelo Fort where he was held in custody, and he was expelled from the Order on the following 1st December. This measure was probably prompted by the news that the artist was a fugitive from justice for having killed Ranuccio Tomassoni in Rome two years earlier; something which must have caused much embarrassment to de Wignacourt who had been very generous in his gifts to Caravaggio.

next page
back to previous page
back to summary