HELP FOR EARTHQUAKE VICTIMS IN ITALY
Molise-Italia, 12 November 2002
The earthquake which hit the town of San Giuliano di Puglia on the morning of 31 October killed 26 small children and 3 teachers at the local primary school. Half the school collapsed and surrounding buildings and houses were damaged. In the most serious earthquake to hit Italy since the September 1997 eruption in Assisi, the shocks, measuring 8 degrees on the Mercalli scale, were felt as far away as Rome. The Military Corps of the Order's Italian Association moved quickly, sending a team of doctors, nurses, intensive care specialists and auxiliaries to the scene, and providing 3 ambulances, medical equipment and a range of medical supplies. Shocks continued to be felt in the area for a week, with a sudden drop in weather temperature complicating the living conditions of survivors who had been housed in hastily assembled tent villages.


EXTENDED FACILITIES FOR PATIENT CARE IN ROME'S HISTORIC CENTRE
Rome, 23 October 2002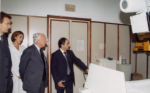 Every day, more than 250 outpatients are treated at the Outpatients' Clinic run by the Order in the heart of historic Rome, and the demand continues to grow. Last week, the Order's head, Fra'Andrew Bertie, opened refurbished and extended premises for the Centre, funded by the Order's own Association of the west coast of America. The new areas will provide much-needed additional facilities for the care of patients at the Centre. They include a further suite of treatment rooms and the installation of the most up-to-date medical equipment to meet growing needs.


GRAND PRIORY OF BOHEMIA WORKS TO REBUILD FLOODED AREAS IN THE CZECH REPUBLIC
Prague, 15 October 2002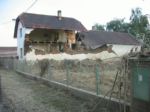 Following the disastrous August floods in the Czech Republic, the Malteska Pomoc Hospital Service, an organisation operating under the Order of Malta's Grand Priory of Bohemia, is working to rebuild the areas worst affected. Their volunteers are providing medical assistance and first aid for evacuees, distribution of foodstuffs, transportation for the disabled and elderly persons and constant checking of the extent of the damage. The volunteers are working under pressure, in Prague and the areas around Melnik, Ceské Budejovice and Olomuc, to improve living conditions before winter arrives.



The Grand Master with the President Václav Havel

The photo archive



Search

Site Map