The diplomatic activities of the Order are closely linked to its humanitarian mission: in fact, the presence of accredited diplomatic missions in more than 92 countries of the world supports the activities of the Order. In the international political field, the Order of Malta is neutral, impartial and non-political. Therefore, due to these characteristics, the Order can act as a mediator whenever a State pleads its intervention to settle a dispute.
The Order has experienced a steady increase in its diplomatic relations in recent years. Today the Order has Embassies in 92 countries - many of which are non-Catholic - and missions to major European countries, as well as to European and international organisations.
The Order of Malta has permanent missions to the following international organisations:
United Nations - New York, Geneva, Vienna
Commission of the European Union - Brussels
UNESCO - United Nations Education, Science and Culture Organisation - Paris
FAO - Food and Agricultural Organisation - Rome
UNHCR - United Nations High Commissioner for Refugees - Geneva
International Committee of the Red Cross - Geneva
World Health Organisation - Geneva
Council of Europe - Strasbourg
International Organisation for Migration - Geneva
International Committee of Military Medicine and Pharmacology - Brussels
Organisations of Central American States - Washington
UNIDROIT-International Institute for the Unification of Private Law - Rome
Pursuant to international law, the Order maintains full diplomatic relations with 92 countries.
Europe

Albania

Austria

Belarus

Bosnia-Herzegovina

Bulgaria

Croatia

Russian Federation*

Italy

Yugoslavia

Latvia

Liechtenstein

Lithuania

Macedonia

Malta

Moldavia

Poland

Portugal

Czech Republic

Romania

San Marino

Holy See

Slovakia

Slovenia

Spain

Hungary

South America

Argentina

Belize

Bolivia

Brazil

Chile

Colombia

Costa Rica

Cuba

Ecuador

Guatemala

Guyana

Haiti

Honduras

Nicaragua

Panama

Paraguay

Peru

Dominican Republic

Saint Lucia

Saint Vincent-Grenadines

Salvador

Suriname

Uruguay

Venezuela

Asia

Afghanistan

Armenia

Cambodia

Georgia

Philippines

Kazakhstan

Lebanon

Tajikistan

Thailand

Africa

Benin

Burkina Faso

Cameroon

Cape Verde

Chad

Central African Republic

Comores

Democratic Republic of Congo

Republic of Congo

Ivory Coast

Egypt

Eritrea

Ethiopia

Gabon

Guinea

Guinea-Bissau

Equatorial Guinea

Liberia

Madagascar

Mali

Morocco

Mauritania

Mauritius

Mozambique

Niger

São Tomé and Principe

Senegal

Seychelles

Somalia

Sudan

Togo

Oceania

Micronesia

Republic of the Marshall Islands

Republic of Kiribati
* Relations with the Russian Federation are maintained through a diplomatic special mission.
The Order is also accredited by Delegations to the Governments of the following countries: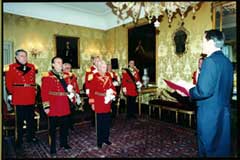 Belgium
France
Germany
Luxembourg
Principality of Monaco
Switzerland